Welcome. Happy new year to everyone. I'm really excited about 2019. February and March are already fairly well booked with marriage ceremonies.  It is a popular time of year  in Canberra.  I'm delighted to be marrying couples who are friends and neighbours as well a people I've met through this lovely role as a celebrant.
After marrying one daughter last year, I'm looking forward to going wedding dress, window shopping with the other one in the new year.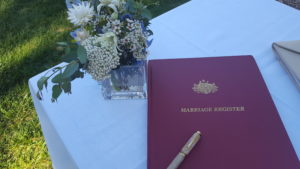 My big news is that my book which is a guide for marrying couples will be available soon as an e book or 'print on demand' paperback.  I will keep you posted.