The Invitation Dilemma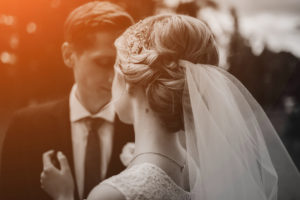 Deciding who to invite to your wedding, is one dilemma every couple has to face. Whether a simple legal ceremony with just witnesses or a lavish affair with hundreds of guests, every decision means that some people will be invited and others will not.
Ahmed and Yusef had been together for years in the face of continuous disapproval from both families.  When marriage equality came into place in Australia, they were able to marry at last. They each chose a work colleague as a witness and invited only a handful of the close friends who had stood by them, to their small ceremony at home.
Mandy and Fred, a young couple with many university friends, close work mates and a large extended family – had to decide how to include everyone in a way they could afford.  Importantly they didn't want to offend people or hurt any feelings. Mandy and Fred were lucky the bride's parents had a huge garden. They were able to have the marriage ceremony followed by a high tea in the garden, complete with cake, speeches and toasts, to which everyone was invited. The children were able to run around, the older relatives were able to sit in the garden and there was space for everyone to mingle or sit with friends. In the evening, close friends and parents of the couple went out to dinner.
Decision Making Strategies
Decide on the type of wedding you want – simple legal, small and intimate or large with all your family and friends being invited.
Work within your budget. One of the biggest costs will be the per capita reception cost. It may be that you have to trim the number of guests to fit what you can afford.
Include people who are part of your life rather than people you should invite to please someone else.
If you have to leave people out and you feel bad about it, try explaining it to them in a kind way. Mandy and Fred, in the example above, explained that their decisions were made so that they could include everyone and have a smaller affordable dinner in the evening.
Work together as a couple. Make your individual invitation list and be willing to compromise if necessary.
Your numbers may depend a lot on getting the RSVPs quickly. If you know who is not coming to your wedding, you will know if you can invite others. Follow up your invitations with phone calls and emails to get definite numbers.
Where possible use your approaching wedding to reconnect with people and seek opportunities to resolve past conflict so that you don't have to make exclusions of close family members.