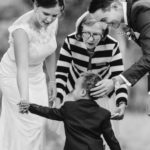 Everyone wants to make their marriage ceremony personal. Of course making it personal means different things to different people.
For some, it means saying marriage vows they've thought about and written themselves (in addition to the legal ones). For others it means including special rituals like unity candles, rose petal circles or a Celtic tradition of hand fasting. For some couples their personal choice is a simple legal marriage ceremony because their main celebration will be with family and friends later that day or even in the future.
Below are few ways to make your marriage ceremony personal.
Plan the marriage ceremony you want rather than what someone else had, what the family or the celebrant wants.
Include others in your marriage ceremony- not just in the bridal party, but reading a poem, having a special responsibility or helping to organise things.
Alternatively, make the marriage ceremony very personal by just having the bride, groom and witnesses.
Let your personality and interests shine through. One couple I know, met while bushwalking.  Their marriage ceremony was held in a national park.  The bridal party, guests and celebrant all had to walk to the ceremony location in hiking boots!
Choose music which has a special meaning for you as a couple.
Acknowledge people. You may be having speeches at the reception but it is great to acknowledge families, people who've travelled, people who can't be with you and even people who have passed away but you know would have loved to be there.
Take care of the memories – both real and digital. By this I mean organise a good photographer.  Also try and be relaxed enough to enjoy and be aware of the special day, rather than being so stressed that it passes by in a blur.
Choose a celebrant who is happy to listen and to work with you to create a unique ceremony.
Whether the marriage ceremony is to be big or small, long or short, make it personal because this it the bit where the two of you join with the one you love.