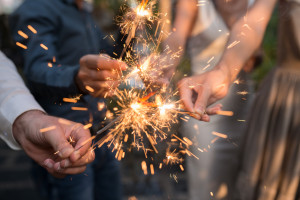 Marriage ceremony photos help you treasure your special day long after the event. Your marriage ceremony is very special – and you certainly want photos of this huge life milestone. You've been planning the wedding day for so long. Now it's here. You really want lots of beautiful photos for memories and sharing in years to come.
I've been married twice – 25 years apart. They were both lovely but different weddings. For both, I didn't really think about the photos and the photographer.  At the first one we used a teenager who'd gone to my school and specialised in photography. He could only develop black and white photos. This was back in the days before digital cameras. He took some nice photos, but left soon after the ceremony and so we had to rely on the snaps guests took to cover the rest of the evening. We had wanted an informal wedding without staged photos but beyond that we hadn't thought about it. We hadn't given him any specific instructions about what we did want covered. Predicably, we were disappointed in our marriage ceremony photos.
For the second wedding, which involved our blended family, we did engage a professional photographer. She had previously worked with my new husband and agreed to take photos for us for a very small fee. Again I didn't think about what I wanted. I wasn't specific and again I was disappointed. The photographer took lots of photos of my husband with his two lovely daughters, perhaps because she knew him, but very few with me and my daughters or me with my new husband.  It was very strange but our own fault. She even apologised when she realised the spread of photos.
So the lessons from these experiences are:
What? Think about the memories you do want records of – before the marriage ceremony, making an entrance, the ring exchange, the reception, the cake cutting etc. What photos to you want to be able to see in a year's time?
Who do you want in your photos? Bridal party, relatives, friends, the whole group? Chances are, people have come from far and wide and you what them to be included. Will different generations of each family be there? Are there blended families? They will all want to have a photo with the bride and groom.
How do you want  your photos to be taken or to look? Candid, spontaneous, staged, laid back as the event unfolds or a mixture of all these?
Once you've worked out the answers to these questions, make a list. Give it to the photographer in advance and get a friend, relative or bridal party member to do the organising of people.
Choose your photographer carefully. If you are paying for a professional, go on line and see what their photos are like. Make sure the photographer is listening to you rather than making assumptions or trying to impose their ideas on you. Ask how they operate during the ceremony.
If you are using a friend or family member, the same steps apply. Think about what you want, talk to them and make a clear list. Ask how you can make it easy for each other.
Luckily, most brides and grooms I meet these days are fairly well aware of what they want for their marriage ceremony photos and in fact their entire wedding day.  They avoid some of the mistakes I made.